Warehouse solutions designed to boost your logistics for maximum efficiency. Alztec has just the right solution for you.
Alztec's know-how opens up exceptionally advantageous opportunities for you in intralogistics and storage technology. Individually tailored to your needs from the broad basic portfolio or specially developed for you. Talk to the Alztec experts and obtain useful information about your project. Everything is possible. The Truemaker are ready for you.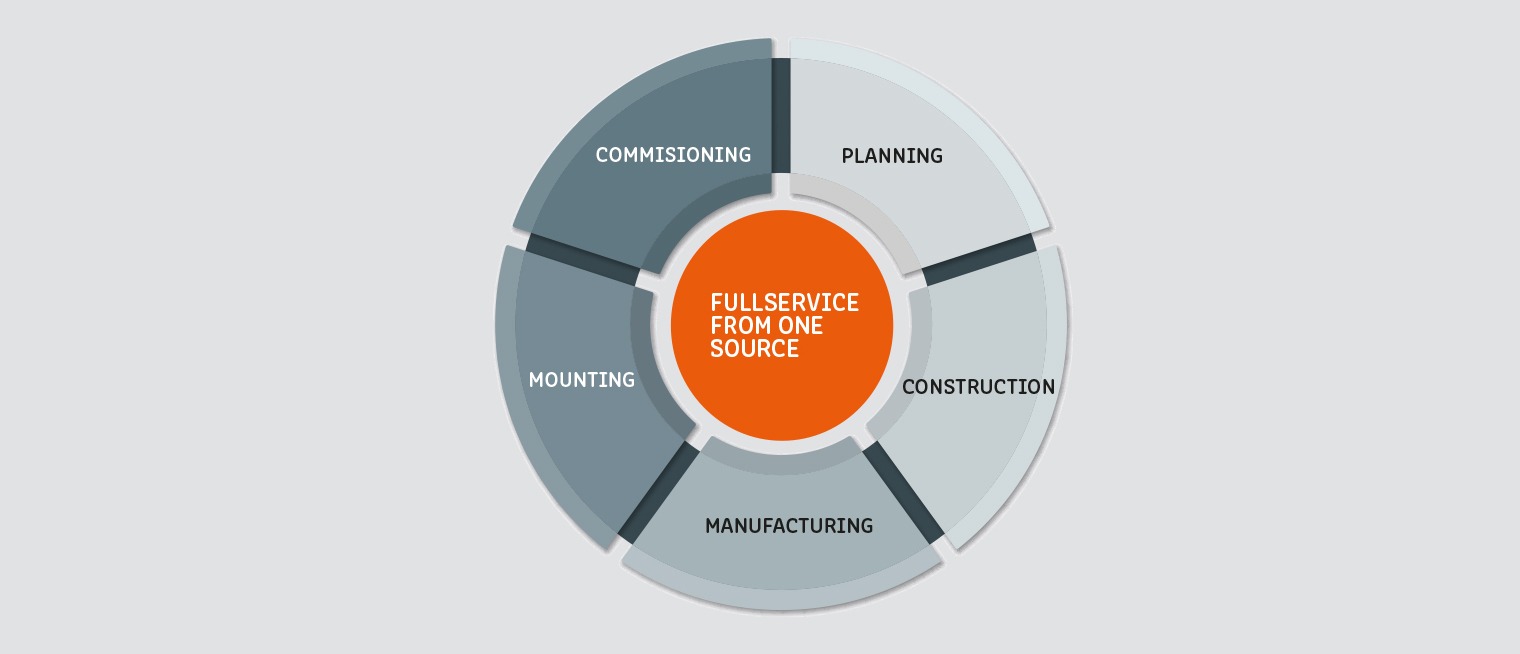 Example
Heavy-duty applications
Heavy weights.
Minimal space.
High redundancy.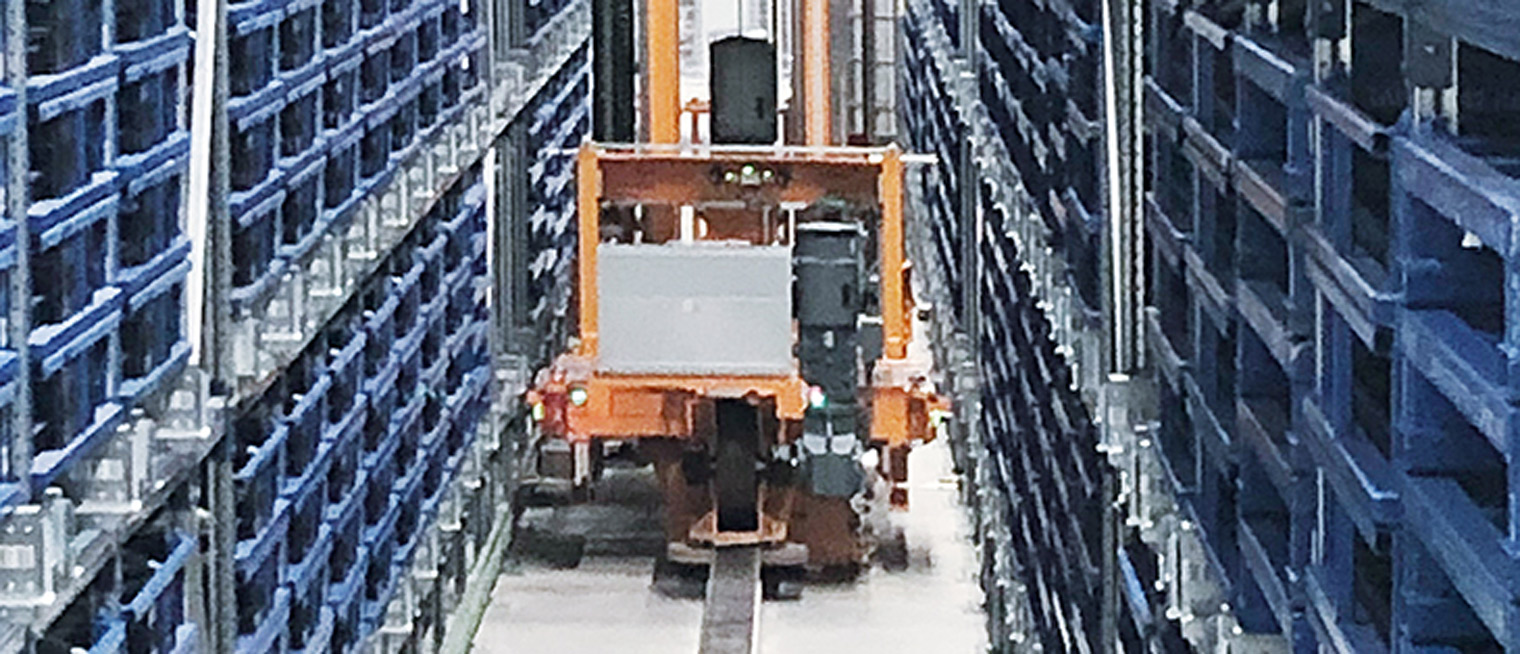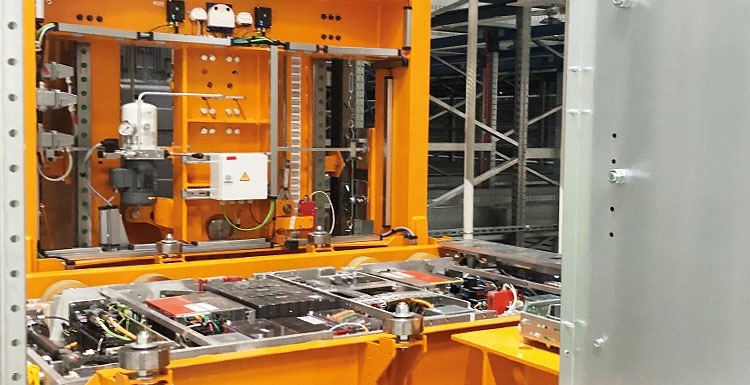 The task
Conveying
Storage
Battery modules or vehicle batteries as well as basic pallets and empties should be able to be stored at two locations. In both warehouses, products should be able to be loaded and unloaded at the front and rear. The stack weights range up to 2.5 tons.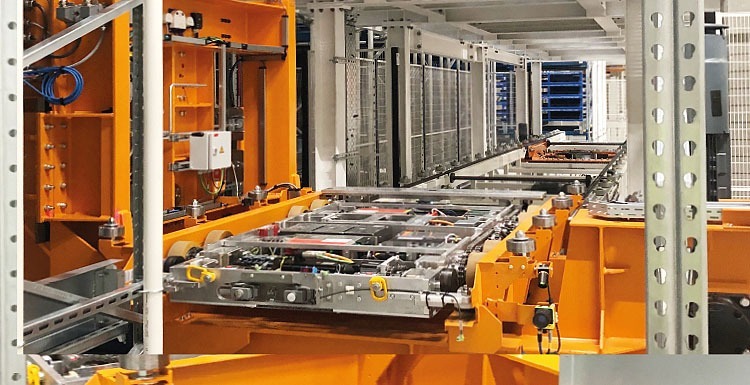 The solution
For maximum redundancy both warehouses feature two aisles each. A long and a narrow warehouse are designed as single deep structures each. Both stacker cranes are equipped with telescopes. The second warehouse with its square footprint features two aisles and multiple deep shelves. The lifting platform on the stacker crane is equipped with a charging station to allow wireless satellite movement into the channels. Both stacker crane types are designed for handling payloads up to 2.5 tons.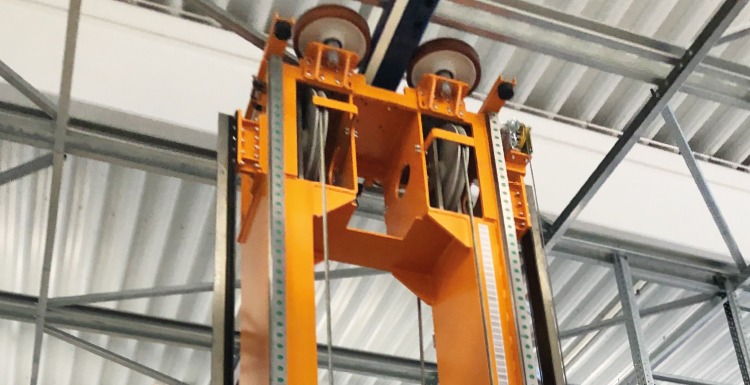 Facts & figures
Capacity: 500 stacks/day
Payload: 2.5 tons
Alztec team:
4 design & engineering staff
16 assembly & commissioning staff
8 electrical & control engineering staff
Main components:
2 aisles, single, deep
2 stacker cranes with telescope
2 aisles, multiple, deep
2 stacker cranes with satellite
2 plant control systems including visualization
2 warehouse management systems
Example
Automated warehouse
Commissioning in a big way!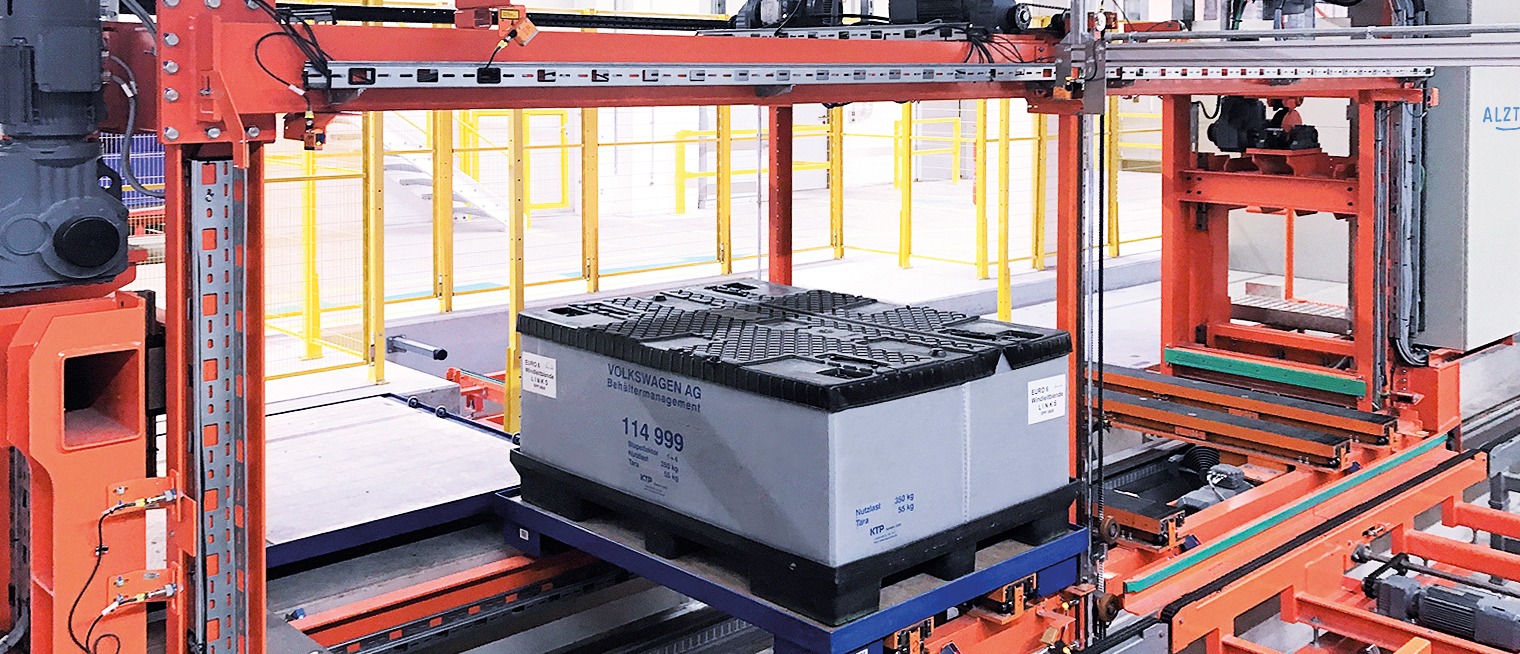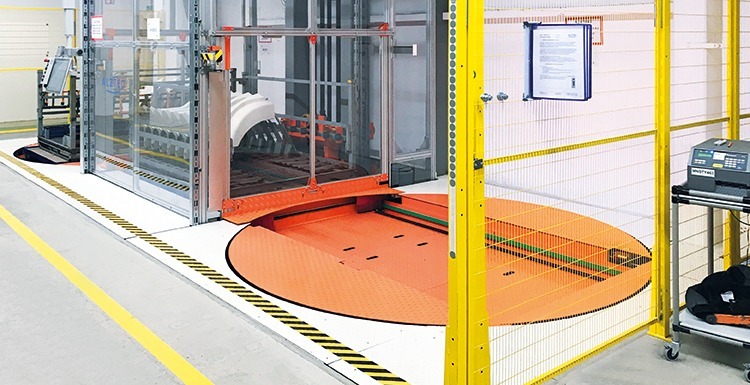 The task
Conveying
Storage
Handling
Plastic parts are painted in an automotive plant. The end customer's requirement is to provide the more than 600 possible different parts (in unmixed containers) in a specific order in picking containers and to store as many containers as possible (unmixed, empty and full picking containers).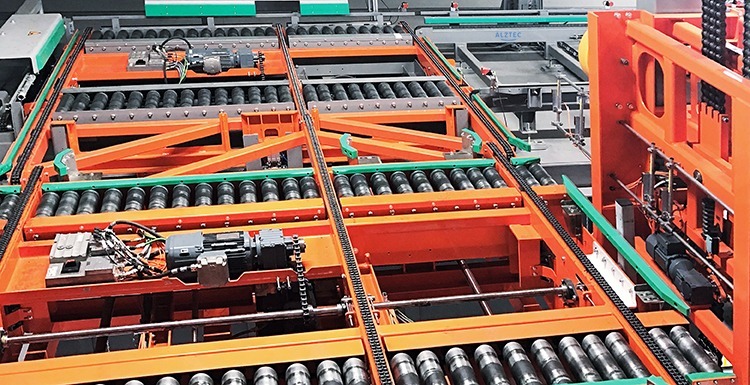 The solution
The unmixed container arriving at the goods receiving area is measured fully automatically and placed on a load carrier with a staple-module. Given the large number of containers, it was challenging to securely grip all of them and turn them so that the opening would later face the worker. The load carrier incl. product is transported to the corresponding storage area on the 1st floor. On the ground floor, picking is carried out by the customer's employees. At 6 stations, the station lifter provides the corresponding unmixed containers according to a predefined sequence. The employees remove parts from the containers provided one after the other and fill a picking container. Each of the 6 stations has its own range of parts and geometrically different picking containers. The finished picking containers are transported by a double distribution truck and returned to the warehouse via a lifter and stacker crane. There, the picking containers are waiting to be called off to the assembly line, fed to it, emptied and returned. In order to cover the high cycle time, a total of 8 stacker cranes are used on 3 rails, each 150 m long.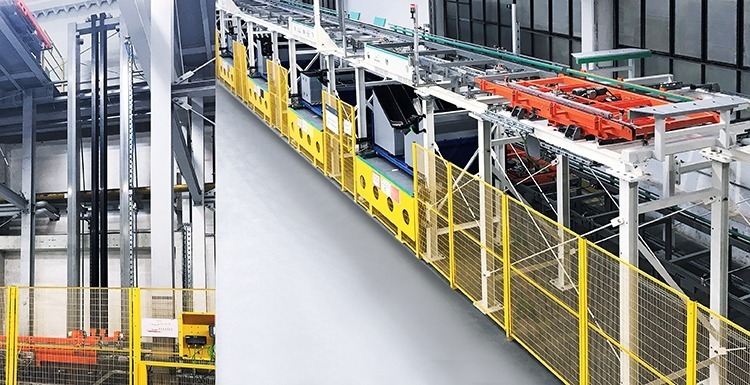 Facts & figures
Capacity: 250 pcs./day
Alztec team:
10 EE in design
20 EE in assembly / commissioning
8 EE in electrics / control engineering
Main components:
3 aisles with
8 stacker cranes with telescope
1 shelf
9 lifters
1 double-distribution trolley
5 distribution trolleys
2 staple-modules (rotating)
2 staple-modules
230 metres conveyors
900 load carrier
48 commissioning gates
1 system control including visualization
1 warehouse management system
Example
Dynamic
commissioning
Just in sequence –
when every second counts –
at 424 storage bays.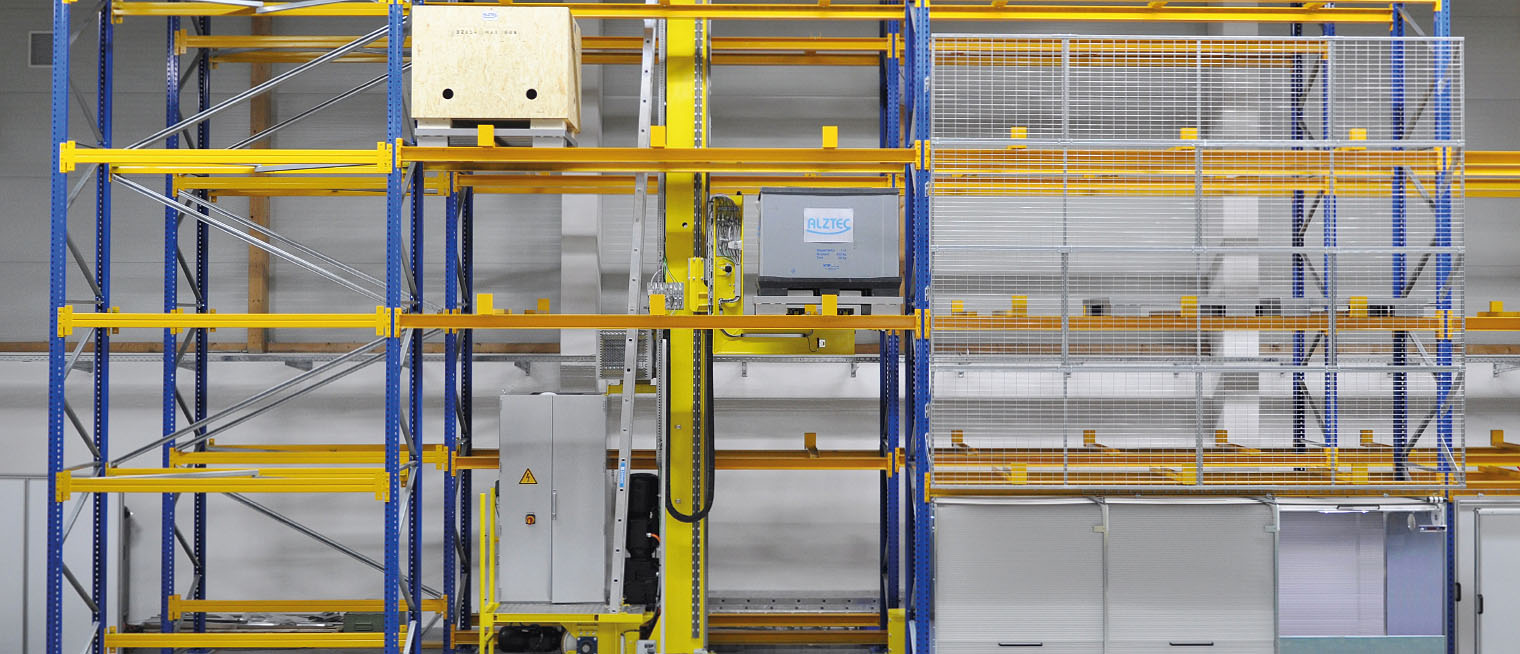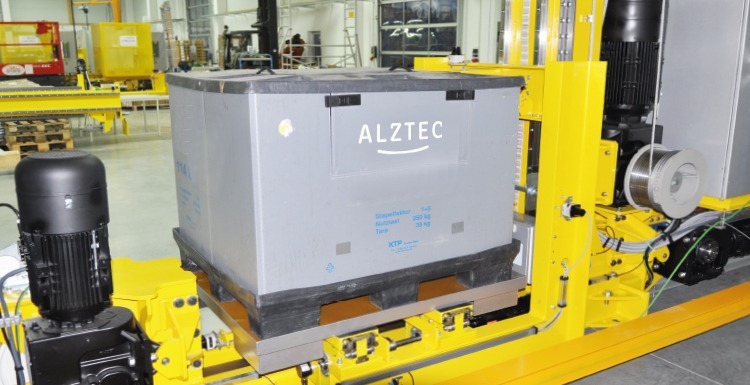 The task
Conveying
Storage
In order to supply the production line of a luxury car manufacturer with the necessary parts, a fully automatic system is required. The workers at 424 variable storage locations are always provided with the appropriate components enabling the pre- commissioning of these components.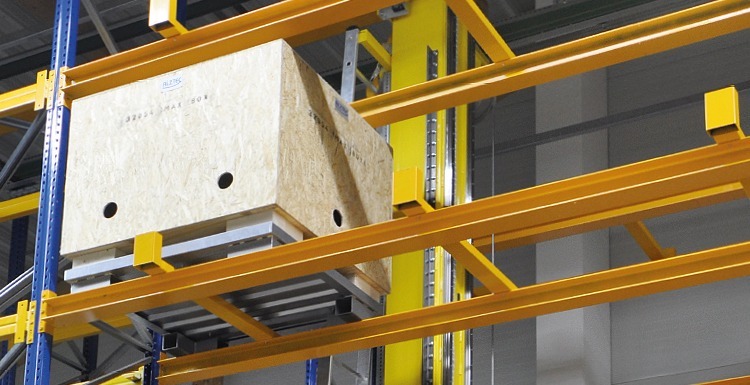 The solution
Alztec plans and supplies the complete material flow system tailored to the assembly sequence of the final assembly line. One of the main requirements are the speed and the reliability of the rack servicing. In order to satisfy the elevated speed requirements of 4.5 m/s at a load capacity of 1,000 kg; the rack servicing equipment specifically has been designed for this application. In order to guarantee the required reliability. It has been equipped with redundant motors.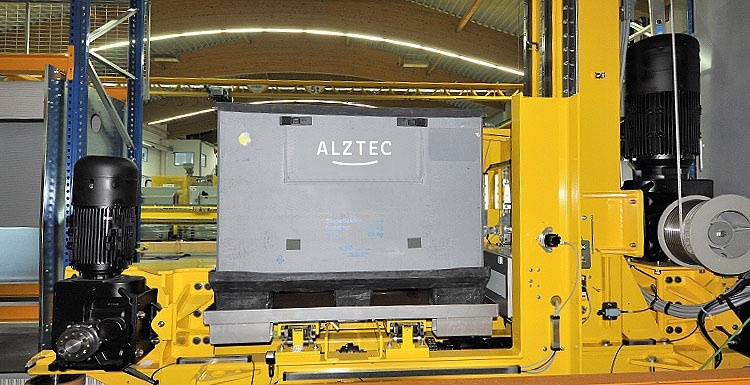 Facts & figures
Capacity: ​1.440 pcs./day
Alztec team:
12 EE in design
16 EE in assembly / commissioning
6 EE in electrics/ control engineering
Main components:
6 rack alleys
6 rack servicing equipment
170 meters shuttle high-level track
6 shuttles
150 metres conveying track
1 lifter
2 stacking modules
1 plant control including visualization
1 warehousemanagementsystem
Example
Automatic
storage system for small
load carrier containers
Always the appropriate components
in the right place.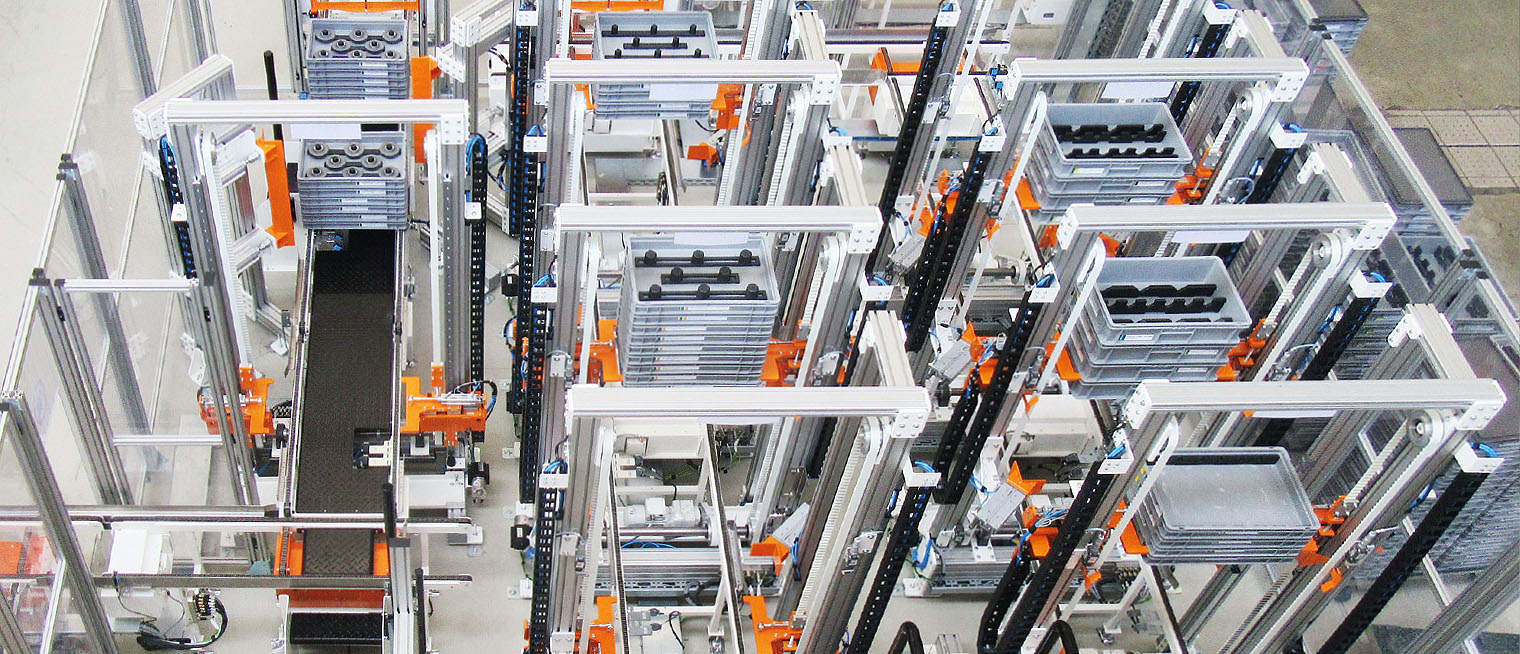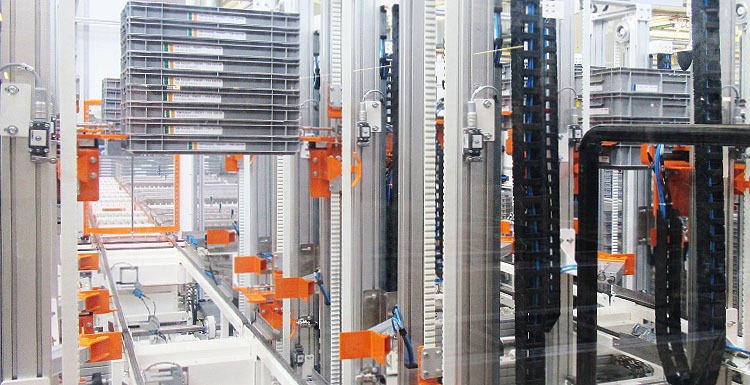 The task
Conveying
Storage
Handling
In order to pre-sequence a production line for gear assembly, an automatic storage system was to be set up in an automobile plant.
The aim is to have a fully automatic supply and collection by the tugger train.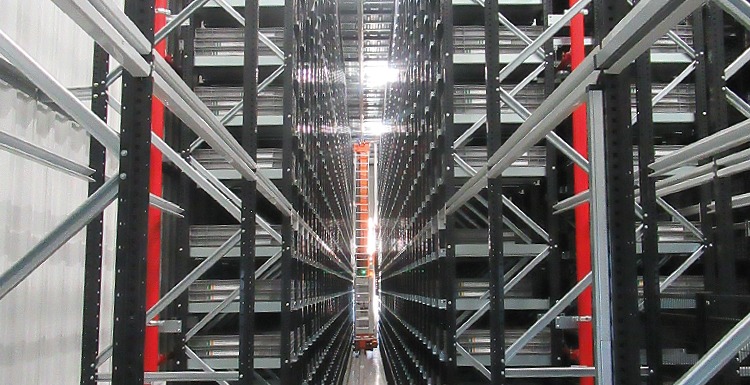 The solution
In addition to the usual requirements that an automatic warehouse has to meet, the challenge here was to develop a stacking/destacking module that optimized the storage technology of the incoming stacks before storage and sorted the individual small load carrier containers that had been mixed up from production into stacks that could be picked up.
Alztec engineers successfully implemented this as well as the subsequent connection of an additional aisle and two robot cells for loading a washing machine.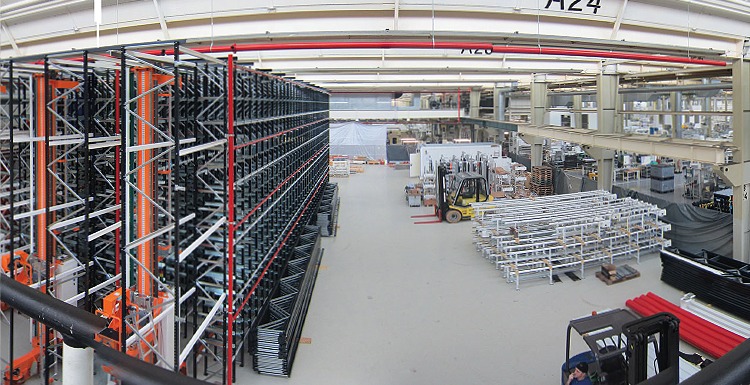 Facts & figures
Capacity​: 3.100 pcs./day
Alztec team:
6 EE in design
12 EE in assembly / commissioning
4 EE in electrics / control engineering
Main components:
4 rack alleys
4 rack servicing equipment
2 robots
14 racking modules
8 lifters
1 automated cover handling
250 metres conveying track
1 plant control iincluding visualization
1 warehousemanagementsystem
Which task do you wish to come
true for your organization?
Let's talk about your needs & requirements.
Just call or send us a mail.


+49 8621 8061-0


info@alztec.com